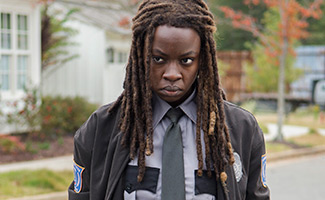 This week, Andrew Lincoln, the cast and creators talk about dying on The Walking Dead, while the London Evening Standard gets Danai Gurira's take on Michonne. Plus, The Oregonian deems Andrew Lincoln and Melissa McBride underrated. Read on for more:
• According to Deadline, Andrew Lincoln jokes at a panel discussion for The Walking Dead that "if they kill me off I'm gonna burn my trailer down."
• London Evening Standard interviews Danai Gurira, who calls Michonne "this fantastic character who has complexity and a distance to go in terms of who she is and who she could be. That's an actor's dream."
• Tovah Feldshuh tells Yahoo TV she was "happy that I didn't die [in the season finale]. Nobody ever wants to leave The Walking Dead. You want to last as long as you can stay on it, because the darn thing is just so very good, so beloved by its viewers, because it goes very deep into the river of what it means to be alive in this world."

• The Oregonian considers Andrew Lincoln and Melissa McBride two of the most underrated stars on TV, remarking that Lincoln "keeps us grounded in real, recognizable human emotion" and McBride "never put a foot wrong, making Carol's progress heart-wrenching and fascinating."
• Under the Radar asks the cast and crew why they think The Walking Dead is "connecting with audiences on a deeper level."
• Gotham News reports from the recent Calgary Comic & Entertainment Expo that, according to Lew Temple, Andrew Lincoln lobbied (and failed) to keep Axel around longer because "he thought they were moving too fast on that one."
• The second episode of Screen Crush's You Think You Know TV? "aims a crossbow at some fresh facts about The Walking Dead!"
• Fansided spotlights the "Where in the World is Michael Cudlitz?" Facebook page, where members of the group "have their own Abraham Ford dolls or action figures and they are encouraged to take them with them wherever they go and document Abraham's journeys."
To stay up-to-date on all the latest news about The Walking Dead, sign up for the weekly Dead Alert newsletter.
Powered by WPeMatico