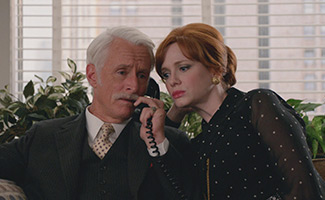 This week, Jared Harris speaks with several publications about returning to direct a Mad Men episode, while The New York Times interviews John Slattery. Plus, Elisabeth Moss gets a Tony nod. Read on for more:
• Jared Harris tells The Hollywood Reporter he doesn't know how the show ends, but adds, "Not knowing anything about the content of what's to come, I do think the touchstone that Matt always comes to is that he wants it to be authentic to the human experience."
• The New York Times gets Jared Harris' take on directing the last scene of the episode, that he "discussed with Matt [Weiner] the idea of doing that pull-back shot to get the feeling that the whole thing was pulling away from them."
• Speaking with Yahoo TV, Jared Harris adds that "you're supposed to walk away from the episode feeling a sense of alarm, that this place that one has developed this huge affection for is in jeopardy."

• Jared Harris discusses directing "Time & Life" with Variety and explains why Peggy and Stan's scene was "the emotional heart of the whole episode."
• Vanity Fair asks Jared Harris for his reaction to Pete punching the headmaster, and he says, "It's a heroic moment in a sense that way. I was happy for the character, and Vinnie [Kartheiser] is such a lovely man, he's a lovely actor. He's a fantastic energy to have on set."
• The New York Times interviews John Slattery, who says, of Roger, "I like the fact that he is particular about his opinions, his loyalties. He has his own code, as does everybody."
• Elisabeth Moss has been honored with a Tony nomination for her role in Broadway's The Heidi Chronicles, according to TheaterMania.com, and Broadway World has her reaction. Broadway World also reports that a caricature of Moss will be unveiled at Sardi's Restaurant in New York City this week.
• Matthew Weiner tells The New York Times that "Time & Life" was about "the consequences of being bought by McCann. They allowed themselves to not be destroyed in the moon landing [episode]. Roger put this thing together to sell them to McCann and they knew it wasn't a good idea and it was kind of inevitable, and here it is."
• Vulture analyzes how "Time & Life," the most recent episode, "brought back one of the most important threads of the show: the bond between Peggy and Pete."
• The New York Times profiles Janie Bryant, checks out her post-Mad Men career and notes that her costumes for the show "rarely find disfavor on social media, where they are parsed with a fervor not seen since Patricia Field's outfits for Sarah Jessica Parker on Sex and the City."
• Janie Bryant chats with Vanity Fair about designing costumes for the characters' final episodes, including a black-velvet bejeweled v-neck dress with feather detail for Joan that had a "lushness, exotic, even hedonistic attitude."
• In a similar vein, Matthew Weiner shares his Mad Men fashion tips with Metro.
• Matthew Weiner explains to Metro that the image of a man falling in the opening credits is "happening in his mind. He's standing there, and then at the end he's sitting there. That's his imagination. It's not literally happening."
• Jay R. Ferguson, speaking with The Huffington Post, says, "I'll just say that I think the fans are going to be really pleased with the way it all wraps up. I think that if you're a fan of this show, you know to expect the unexpected."
• Variety, Vulture and Basket of Kisses attend Matthew Weiner's Q&A with Richard LaGravenese at New York's 92nd Street Y, where Mad Men's creator says he'd like to have a drink in 2015 with Trudy because "I just think she would be a dynamite old lady."
• Talking to Indiewire, John Slattery observes, "I think at this point what Roger maybe has gained is the knowledge that nothing is forever. Not only the finite quality of life, but the state of being."
• The Hollywood Reporter speaks with Bryan Batt, who speculates that "Sal could have gone either way. He was either going to explode out of the closet or remain so closeted and never have that aspect to his life, that deep longing, satisfied."
• Broadway World interviews Elisabeth Moss, who reveals that, when she started as Peggy on Mad Men, "I had no idea that she was going to have so much to do. I had no idea that she was going to rise in the ranks and have this relationship with Don."
• Christina Hendricks talks to the Daily Mail, saying, "The great thing about Joan was that whenever she got knocked down, she got right back up. I certainly feel as though I learned a lot from her – and yes, of course, I'm a feminist too."
• Speaking with Red, Christina Hendricks says, of Joan, that at first "she was rather intimidating and snarky, but then she got more sensitive and vulnerable, which is a lot more me infused in her."
• The St. Paul Pioneer Press talks to Rich Sommer, who says Season 4′s "The Suitcase" is his favorite to watch because it is "arguably one of the best episodes of the show. It's all about Don and Peggy, and it's just one of the most beautiful episodes."
• SundanceTV does a Q&A with Marcy Patterson, who enjoyed the challenge of Season 6′s "The Doorway" because "trying to figure out how to work in Hawaii on a period show is not easy, because it's not like Hawaii has rental houses where you can rent 1960s props and stuff like that."
• Stephanie Drake talks to Vulture about Meredith's assertiveness in "Time & Life" and remarks, "Meredith stands up for herself when absolutely necessary."
• Bustle gets Stephanie Drake's take on what Meredith does after work and concludes, "Meredith's evenings are way less stressful than the other characters'." Drake also tells Bustle that she doesn't think "any of the male characters at SC&P would fully appreciate Meredith. They all assume she's an idiot, anyways, after the airplane incident. She would be better off with someone who doesn't work there."
• Uproxx provides a visual timeline of "the maturation of Sally Draper and the way that Kiernan Shipka has aged over the course of the series."
• According to Entertainment Weekly, Jason Reitman is hosting a live reading of Season 1′s "The Wheel" and a screening of the series finale.
• The New York Daily News traces 10 of the biggest world events of the 1960′s and 1970′s "and the impact they had on characters in the show."
• The Huffington Post UK lists eight reasons why it's "going to need a stiff drink (probably whisky) when we finally bid farewell to Sterling Cooper & Partners advertising agency."
• Bustle declares that Mad Men "needs to bring Ginsberg back for one last moment in the spotlight before it's curtains for the series."
• CarterMatt considers "The Forecast" one of last week's episodes of the week, describing it as "somewhat romantic, somewhat realistic, and also a nice reminder that there is still actual advertising business going on at the firm."
• Uproxx reminds viewers of 20 actors "you may recognize from other projects who you probably forgot were on Mad Men."
• Realtor.com estimates the real estate values of various Mad Men homes, then vs. now, and decides that Peggy's Upper West Side New York City brownstone would currently fetch $6 million.
• Metro recommends 10 movies from the Mad Men era of the 1960′s and early 1970′s that "not only hail from the same period but show it in different lights."
• Matthew Weiner tells Business Insider, "Do you know how weird it is to see your name on TV? I haven't gotten over that yet, believe it or not."
• San Diego's KPBS interviews a local professor about a new book she co-edited, Mad Men And Politics: Nostalgia and the Remaking of Modern America, and learns that she believes the show "represents the invention of modern America."
• For recaps and reviews of Season 7, Episode 11, "Time & Life," check out A.V. Club, Collider, The Daily Beast, Gothamist, HitFix, Indiewire, New York Post, The New York Times, Salon, Screen Crush, Slate, Time, Tom + Lorenzo, USA Today, Vulture, The Wall Street Journal, Wired and Yahoo TV.
To stay up-to-date with all the latest Mad Men news, sign up for the Mad Men Social Club.
Powered by WPeMatico