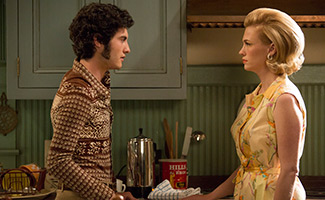 This week, Matthew Weiner comments on Don's weakness, while January Jones discusses Betty and her relationships with Glen and Sally. Plus, Jennifer Getzinger talks about directing the latest episode, "The Forecast." Read on for more:
• Reporting from the French Series Mania festival, Business Insider quotes Matthew Weiner explaining that Don is a "very weak man" and that "shame is his lifeblood."
• January Jones tells The Huffington Post, "I think that Betty sees in Sally what she's always wanted for herself. She's raised this child, unintentionally creating this person she does admire but is probably jealous of."
• Time speaks with January Jones about Betty and Glen, especially their last scene in "The Forecast" and how "I think selfishly she's always thought about how everything affected her, and she's realizing finally how it affected him. And she dealt with it in a very maternal way."

• Comic Book Resources talks to January Jones, who says that Betty is now "a more evolved person. I think that she's happier than we've ever seen her. I think that she's grown a lot. I mean, as much as anyone can grow in that amount of time. I think that she's more emotionally mature." Speaking with Vulture, Jones adds, "Of all the female characters, we would expect Betty to be the least modern in that way. For her to be going to school and educating herself is an awesome step in the right direction."
• The Hollywood Reporter talks to Jennifer Getzinger, director of "The Forecast," who says of Sally, "Imagine Don Draper being your father. There are so many charming, lovely, wonderful things about him — but there's so many destructive elements to his person."
• Jennifer Getzinger tells Variety that the episode ending with Don by himself is "what his life is these days. His empty apartment. Pushing Peggy away. He's shedding his old skin. He's more alone than we've ever seen him."
• On Jimmy Kimmel Live, Kiernan Shipka says that Mad Men ending is "crazy because it's this very familiar thing. It was more than half my life so it just feels like the normal thing."
• Yahoo TV interviews Kiernan Shipka, who calls Sally "the type of person that when you see her and see her talk and her actions, you just kind of know that she's gonna be alright. She's figuring things out, she's growing up… but I just think she's someone bound for success."
• Kiernan Shipka says to Elle that she doesn't want Mad Men to end: "I'm holding on to these last couple episodes, these last couple of weeks that we have. I have to embrace this. When it's over it's going to be kind of sad."
• The Oregonian talks about Jon Hamm's underrated performance as Don, asking, "will it take the AMC series ending to finally eke out some long-overdue recognition of just how good Hamm is?"
• Asked by Cosmopolitan.com about the sideburns on his son Marten, Matthew Weiner says, "Oh no, he didn't grow them for the show. That look has come around. We were, like, 'Hey, Wolverine!' We had to trim them, actually."
• Stephanie Drake, talking to Bustle, says modern-day Meredith "would definitely go to college and maybe major in Psychology. She's very good at telling people what she really thinks and she's good at taking notes."
• Entertainment Weekly notices some of the long gaps that Mad Men characters have had between appearances, such as Rachel Menken's 67-episode gap.
• The New York Daily News runs through the 12 most important women in Don's life, remarking, "Notice how many on this list he did not sleep with. That's the real bracket-buster."
• In honor of Glen's appearance, Bustle looks back "through the stages of Glen to remember just how beautifully bizarre that little boy was."
• Fast Company has excerpts of Matthew Weiner's advice to struggling artists from Getting There: A Book of Mentors.
• Matthew Weiner tells Variety that an early film he did was a turning point (despite a bad Variety review) because it "motivated me to write Mad Men while I had a job where I was still somehow unsatisfied, and then pushing Mad Men for years and years."
• Los Angeles Magazine goes behind the scenes of its spring fashion feature with Elisabeth Moss, who gamely climbs a tree in four-inch heels and a floor-length gown.
• Mashable points out several "exacting examples of Mad Men's devotion to historic accuracy."
• Gothamist and BLOUIN ARTINFO examine the cultural references in "The Forecast."
• Popsugar details its favorite style moments, "from the most recent episodes to the very first, and just try to stop yourself from pulling on a matching suit set or printed silk scarf."
• USA Today reports that Elisabeth Moss has been nominated for an Outer Critics Circle Award for The Heidi Chronicles, while Moss is also nominated for the Drama League's Distinguished Performance Award, according to Backstage.
• For recaps and reviews of Season 7, Episode 10, "The Forecast," check out A.V. Club, Grantland, HitFix, The Hollywood Reporter, Newsday, New York Post, The New York Times, PennLive, Rolling Stone, Time, Tom + Lorenzo, TVLine, Variety and Vox, Vulture.
To stay up-to-date with all the latest Mad Men news, sign up for the Mad Men Social Club.
Powered by WPeMatico