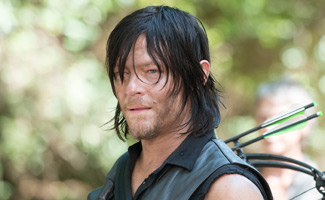 This week, Norman Reedus explains Daryl and Carol to E! Online, while Andrew Lincoln talks about the emotional resonance of the deaths on The Walking Dead. Plus, Gale Anne Hurd strikes a deal for a Bravo miniseries. Read on for more:
• Norman Reedus tells E! Online that Daryl and Carol are "so alike. They almost have a brother sister love and respect for each other that it's almost more than a make out under the moonlight sort of situation."
• Andrew Lincoln, chatting with Philippine Daily Inquirer, says, "I think that, as long as there is an emotional impact with each death, then we have a show. It's that simple. That is why we are still here—this is why we are still talking six years down the line."
• Variety reports that Gale Anne Hurd's Valhalla Entertainment is developing a miniseries for Bravo called All That Glitters.

• Michael Cudlitz chats with ComicBook.com about Abraham's lifespan on the show, saying, "Me worrying doesn't make me stay around longer. They'll take me out if and when they want to. I'll just enjoy the time that I'm here."
• Fansided has part of Norman Reedus' conversation with TheWrap, where he says his favorite zombie kill was taking out three at once with a chain, "like Indiana Jones." Reedus also tells TheWrap that his favorite Season 5 scene was the group "in the barn, we're getting overrun by walkers and the storm comes up."
• The Los Angeles Times talks to Norman Reedus about his recent Saturday Night Live appearance, learning that the experience was "totally a bucket-list moment for me."
• Interviewed by Melty.com, Greg Nicotero characterizes the Wolves as "people who are basically utilizing the people that they kill as ammunition to build a zombie army."
• The San Jose Mercury News considers Lori's death one of TV's most stunning: "After delivering a baby via emergency c-section, Lori (Sarah Wayne Callies) starts to bleed out. Knowing that she'd be a mommy zombie, her own son shot her in the head."
• Fusion points out that only 38 percent of network TV shows have at least one Asian cast member, with Steven Yeun as an example in the cable world.
• Uproxx checks in to see what several erstwhile The Walking Dead actors are up to now.
• Speaking with HollywoodLife.com, Emily Kinney reveals she never watched the episode where Beth dies "because I had my own experience, and I didn't want to change what my experience of it was because it was so special to me."
• Design & Trend wishes these five dead characters — the Governor, Beth, Tyreese, Hershel and Shane — could return in Season 6.
• WhatCulture spotlights "some of the finest Walking Dead episodes ever to grace our screens."
• Atlanta's WXIA reports that the town of Grantville, Ga., featured in The Walking Dead, has been sold for $680,000 to a Florida marketing company.
• Tulsa World interviews Moses J. Moseley about playing one of Michonne's pets and his 150-pound weight loss.
• The Daily Herald has a Q&A with Cris Macht, a filmmaker who's released a new documentary, The Walkers Among Us, that's about The Walking Dead's fan base.
• WhatCulture describes "ten things you (probably) didn't know about the cast, past and present, of AMC's The Walking Dead."
To stay up-to-date on all the latest news about The Walking Dead, sign up for the weekly Dead Alert newsletter.
Powered by WPeMatico