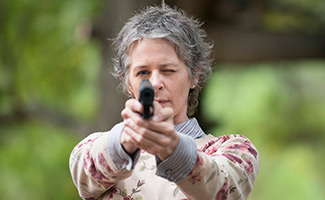 This week, Norman Reedus and Melissa McBride discuss Alexandria with various news outlets, while Lauren Cohan talks to People about her scaredy-cat tendencies. Plus, Steven Yeun salutes The Walking Dead's women in Cosmopolitan. Read on for more:
• Norman Reedus says to Entertainment Weekly that Daryl's wary of Alexandria because "I don't think he trusts people right off the bat. There's another element to it: I don't think Daryl would have liked living in a suburban housing development even before the zombie apocalypse."
• Interviewed by Entertainment Weekly about Carol threatening Sam, Melissa McBride declares it's "not unlike her teaching the children how to protect themselves. This child is unaware of this threat that is out there. They're sheltered. They don't know what's going on."
• People interviews Lauren Cohan, who says Maggie "is in support of the group finding peace in this town [Alexandria] and a safe hold."

• Steven Yeun, talking to Cosmopolitan, says, "All the women on our show are badasses, and they can protect themselves."
• Addressing Carol's new Alexandria wardrobe, Melissa McBride shares with Variety "this could be a really good way for her to find out what's going on (in Alexandria) and to be the kind of person nobody sees as a threat. She can maneuver her way around and find out what's going on."
• Talking about Daryl's refusal of a gun, Melissa McBride tells The Hollywood Reporter that the group in Alexandria is "going to try [to fit in], but at the same time, we can't drop our guard and become weak. There's definitely some concern [about] that move on Daryl's part."
• Access Hollywood learns from Melissa McBride that it's "an interesting theme in what's going on here at Alexandria, you know, pulling who we were, the then, and the now, and what is now? And what is normal?"
• Speaking with The Daily Beast about Carol, Melissa McBride says, "I see her as someone who has just really risen, step-by-step-by-step to become a fighter. She'll do whatever she has to do."
• E! Online highlights the recipe for Carol's cookies ("so good they ended up saving her life") which can be found on AMC's website.
• After watching the latest "phenomenal" episode, Uproxx poses five burning questions.
• Fansided explains how Aaron "proved himself to be quite the recruiter" by recruiting Daryl to be his partner.
• Parade talks post-zombie apocalypse grooming inspired by Rick. In a related story, the New York Post asks Hollywood actors to shave their beards, noting that Rick "shaved his face on camera, drawing attention to his piercing blue eyes."
• Paste lists its favorite looks from the show, asking, "who knew the zombie apocalypse would look so good?"
• Ann Mahoney, who plays Olivia, tells her hometown paper, The Times-Picayune, she didn't know her character's name before arriving on set: "I'm one of those actors who likes to do a lot of character homework, to research things. I was like, 'Oh, my God. I don't even know who I am.'"
• In the wake of Buttons' death, MTV points out that The Walking Dead is "pretty much the worst place ever to be a horse."
• "What does it take for our heroes to stay in shape, and in one piece, in a world full of ravaging zombies?" A fitness expert answers this question for MTV.
• One of Dread Central's top horror cops is Rick, who's "carried his professional duties into the new world. And his partner, the late, unforgettable Shane Walsh (Jon Bernthal), certainly deserves a mention on this list as well for all those fans of Team Shane."
• WhatCulture spotlights 31 behind-the-scenes photos from The Walking Dead.
• Design & Trend features a video of The Walking Dead cast (past and present) "before they became massive small screen stars."
• The Daily Jeffersonian of Cambridge, Ohio speaks with the mother of Corey Brill about playing Pete, who, she says, "isn't especially a good guy, so that was interesting for Corey to play someone that has some issues with life and who, I think, has a temper."
• For recaps and reviews of Season 5, Episode 13, "Forget," check out Access Hollywood, The Atlantic, A.V. Club, Chicago Tribune, Entertainment Weekly, Forbes, HitFix, The Huffington Post, New York Daily News, The New York Times, Paste, People, TVLine, USA Today, Variety, The Wall Street Journal and The Washington Post.
To stay up-to-date on all the latest news about The Walking Dead, sign up for the weekly Dead Alert newsletter.
Powered by WPeMatico