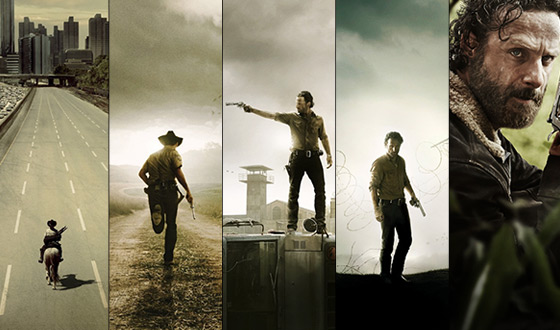 Need an exciting way to ring in the new year? How about a full-series marathon of The Walking Dead? Beginning on Tue., Dec. 30, at 9AM/8c AMC will air every single episode of the series back-to-back. Ring in the New Year with the Dixon brothers in Episode 310, "Home," then stay up late on January 3rd for the Season 5 Midseason Finale, "Coda" at 5AM/4c. Can't wait to get started? Here are ten ways to do just that…
1. Watch the cast and crew discuss what lies ahead for Rick's group in a look at the final episodes of Season 5.
2. Go inside the series with behind-the-scenes videos from every episode, then check out behind-the-scenes photos from Season 5.
3. Browse interactive content for Seasons 4 & 5 with The Walking Dead Story Sync.

4. Prove your devotion to the show with The Walking Dead Ultimate Fan Games which quiz you on every single episode from the series so far.
5. Test your visual recall with The Walking Dead photo quizzes.
6. Turn yourself into a zombie with the Dead Yourself App then transform your friends into the undead with Dead Yourself's Bite Me feature.
7. Watch full length recuts of The Walking Dead Webisodes from Seasons 2, 3 and 4.
8. Check out a trailer for The Walking Dead: No Man's Land, an all-new mobile game coming in 2015.
9. Check out interviews with Andrew Lincoln, Emily Kinney and the rest of the cast and crew.
10. Sign up for Dead Alert: The Walking Dead Insiders Club for early and exclusive access to photos, videos, interviews, news and features.
The Walking Dead New Year's Eve & Day Marathon begins on Tue., Dec. 31 at 9AM/8c on AMC.
Powered by WPeMatico