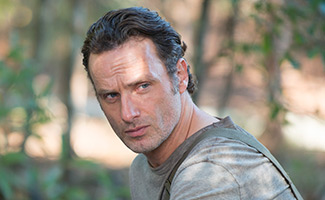 This week, Andrew Lincoln teases the possibility of Negan to The Hollywood Reporter, while Norman Reedus pays a visit to Conan O'Brien. Plus, Greg Nicotero and Tovah Feldshuh discuss Sunday's episode, "Remember," with Yahoo TV, Entertainment Weekly and other publications. Read on for more:
• Andrew Lincoln teases to The Hollywood Reporter, "There are astonishingly brilliant and thrilling characters that I am convinced we would be idiots not to meet in our journey; I would be very surprised if we don't see Negan on the horizon in the not-too-distant future."
• Norman Reedus goes on Conan to reveal that he wanted to eat the worm in "Them" but "there were some animal activist groups, civil rights groups there, and they had to watch me spit it out and watch it wiggle."
• Greg Nicotero tells Yahoo TV that, in Alexandria, "Rick's entire motivation is he's going undercover. He's becoming the person that he thinks they want him to become so he can move around the community without question."

• Greg Nicotero, talking to Entertainment Weekly about directing the latest episode, "Remember," says, "I wanted you to still feel that no matter how safe they are, they have been conditioned for almost two years to have this sense of dread. And the episode really does have that, and we see how everybody handles it."
• EW also interviews Tovah Feldshuh, who says that Deanna is "offering Rick and his mighty band of pirates a respite from war zones and a time to breathe and embrace other people. And we hope it works out. I love the part. I just love it."
• Tovah Feldshuh explains to The Hollywood Reporter that Deanna is "the brains. She's civilized and intelligent and needs bodies and the brawn and that's why she wants Rick and his band of interesting characters to come into her compound but not without being vetted first."
• Alexandra Breckenridge, who joins the cast as Jessie, also tells THR that the season finale is "really intense. I think we're going to see Rick unravel a little bit more — again, if we haven't already seen that. But I'm pretty sure we have!"
• Tovah Feldshuh praises the cast to Variety, declaring, "I thought they were rather remarkable. Steven Yeun had almost no lines and it was ridiculous he was so good. He had such a reservoir of subtext under his work, it was extremely moving. There isn't a clunker in the bunch."
• The Daily Beast chats with Alexandra Breckenridge, who reacts to Jessie meeting a shirtless Rick, saying, "Isn't that great? He comes to the door shirtless. You're like, 'Woah, hello.'"
• TV Guide checks out The Walking Dead zombies "that have had the most lasting impact on our psyches."
• Entertainment Weekly announces, on Twitter, that the Season 5 finale on Mar. 29 will be 90 minutes long, vs. the usual 60 minutes. EW adds that, in the finale, "Daryl finds himself in trouble while out on the run. Meanwhile, in Alexandria, Rick and his group continue to feel like outsiders as danger lurks near the gates."
• On Entertainment Tonight, Norman Reedus says he's like Daryl because "I'm super awkward. I mean what I say and I wear my heart on my sleeve for the most part."
• Cleveland.com checks out the denizens of Alexandria, "the characters we've already met and a few we will meet in the near future."
• Uproxx checks out "all the incredibly cool details" viewers might have missed in "Remember."
• iDigitalTimes highlights AMC's virtual tour of the Alexandria Safe Zone.
• Chicago's WGN interviews Chandler Riggs, who says it's always possible Carl could get killed off and that "whenever I get a call from Scott Gimple or any of the executives I get really scared."
• Melissa McBride is one of Fangoria's Chainsaw Award best supporting actress nominees because "her committed and physical performance improves both the writing and acting of any scene she shares."
• HitFix reports that The Walking Dead was honored with seven Saturn Award nominations, including best syndicated/cable television series.
• In Interview, Agyness Deyn talks to one of her good friends, Alanna Masterson, who says she wants Tara to "have an epic death. I don't even care if it makes sense in the story line. Voldemort could show up with a wand and kill me and they'd be like, 'Wait, huh? Why are wizards here?'"
• Hello! speaks with Christian Serratos, who says, "I just always feel better when I'm very girly and feminine. It's just what I like to do. So it's fun and nice to sometimes get very dirty and put on the grimy Walking Dead clothes."
• South Africa's Independent Online speaks with Eulyn Womble about creating a back story for each zombie she costumes: "How did they die? How long have they been dead? Who was this person before the apocalypse? Who have they become and what is their mental state?"
• In the wake of the group encountering the residents of Alexandria, the New York Post ranks the "the best — and the worst — survivor groups Rick and his gang have encountered thus far."
• Blabbermouth.net has a clip of Anthrax's Scott Ian getting killed by Carl in "Remember."
• Variety credits The Walking Dead with a nearly 25 percent jump in in advertising revenue at AMC Networks in the fourth quarter.
• Entrepreneur explains three critical lessons it learned about start-ups from The Walking Dead.
• International Business Times spotlights AMC's interview with Ross Marquand.
• Reviewing a production of Danai Gurira's The Convert, the Marin Independent Journal calls the play "a sumptuous feast." And the San Francisco Chronicle says, "Gurira doesn't give us a simple analysis or any answers, but the questions she poses make for some pretty rich and rewarding drama."
• Norman Reedus will direct a music video for the Bots' "Blinded," Diffuser.fm reports.
• For recaps and reviews of Season 5, Episode 12, "Remember," check out Assignment X, The Atlantic, A.V. Club, Boston Herald, Entertainment Weekly, E! Online, Forbes, HitFix, The Huffington Post, IGN, MTV, New York Observer, The Oregonian, People, The Telegraph, Time, TV Guide, TVLine, USA Today, Variety, Vulture and The Wall Street Journal
To stay up-to-date on all the latest news about The Walking Dead, sign up for the weekly Dead Alert newsletter.
Powered by WPeMatico